Shopping Cart
Your Cart is Empty
There was an error with PayPal
Click here to try again
Thank you for your business!
You should be receiving an order confirmation from Paypal shortly.
Exit Shopping Cart
Working together to awaken your inner potential
Happy March Gorgeous Souls,
I hope your warm and safe and the weather gets warmer as the spring equinox or Eostara approaches on 20th March and Easter is 30th March.
This is a time for new ideas, Start new ventures and change.
My new venture is starting Yoga classes in Bellshill and one to one Yoga.
Also Happy  full moon. Get your dreams, Crystals, wishes and desires, ready for the full moon tonight.
 Let's move those dream a little closer to reality by removing blocks, old mindset and ingrained attitudes. Lets open doors and move forward.
The distance between our dreams and reality is call action. We have to act and invest time and energy to bring our dreams to reality. At this time we have to invest our energy into something that is going to contribute to our growth, this could be courses, therapies or learning new things.
So New Month, New beginning, New Mindset, New focus, New Start, New intention, New results.
For more information on my therapies, courses, yoga classes or one to one Yoga sessions,please PM me at
www.facebook.com/Renascentiayule

Like my page
or check my website.
www.renascentia.co.uk

Welcome Gorgeous souls,
With every ache and pain your body is trying to tell you to what you're not facing, dealing with or seeing in your life.
Listen to what your wonderful body is telling you. Once you accept what your body is communicating with you, then you can deal with the true cause of your pain, ache or conditions. Body reading is one of the services that I offer at Renascentia.
Appointments available
Listen to your body, it is smarter than you.
Welcome to 2017, Gorgeous Soul.

When you are making your resolutions, some of us will be making plans to get fitter, lose weight, eat better. Please remember one exercise regime or diet plan is not a one size fits all.

Listen to your body, listen to what it tells you about food and movement. Which foods make you bloated, what exercises does your body enjoy. Listen and once you have found the eating plan and movements that works for you, physically, emotionally, mentally and spiritually, then make it a way of life.

This is the same for all changes in your life - make them part of your life rather than an add-on.

All the best for 2017.
Your Assumptions distorts you Perceptions/Reality, which affects your Expectation and therefore your Attachments, which leads to disappointment
When you stop making Assumptions about outcomes and people, your Perception or your Reality Changes and becomes clearer, you stop trying to control everything and having unrealistic Expectations and let go of Attachment.
When life or relationships are not meeting your expectations,let go of how you think things should be. It a matter of not having assumptions or attachments to a fixed outcome or perception. Just let go!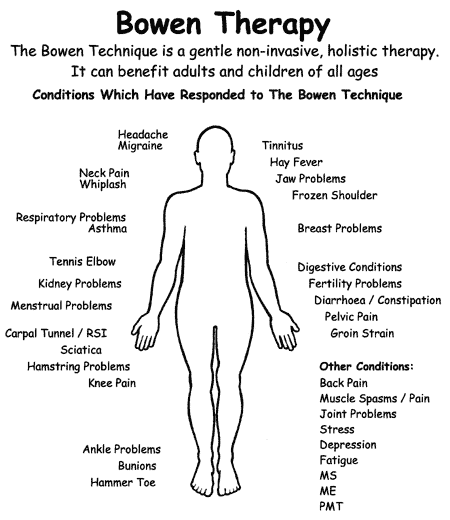 Try Bowen Release therapy for all your Shoulder and back pain. I am a Bowen therapist but I forgot how good it was until I got a friend to treat my Frozen shoulder. I had forgotten on how effect it can be, how quick it can work and also how relaxing it can be. Totally fell back in love with this treatment
Here is some information about it.
Contact me for more information
The Bowen Technique
What is it?
The Bowen Technique is a remedial, hands-on therapy that is applied using very gentle pressure. The practitioner uses thumbs and fingers on precise points of the body to perform Bowen's unique sets of rolling-type moves which stimulate the muscles and soft tissue of the body. There is no manipulation or adjustment of hard tissue and no force is used. The experience of a treatment is gentle, subtle and relaxing. It is believed that the Bowen Technique prompts the body to reset, repair and balance itself and clients report the experience of pain relief, improvement of function and recovery of energy. 
Gentle
As a therapy, Bowen is truly light-touch. The pressure used in Bowen is quite subtle and can be extremely light and still get the job done. It is not dependent on hard pressure and there is no awkward bending, twisting or re-positioning of the client during the treatment. because of this, Bowen can be considered for clients for whom other forms of therapy might be too aggressive, forceful or invasive. The tiniest of babies through to the frailest of adults have been treated with Bowen. 
Holistic
A key element of the principle guiding Bowen, and indeed all complementary therapies, is that we work holistically, according to the well-established principle of naturopathic medicine: 'That the body be treated as a whole, without referral to named disease'. Indeed, with Bowen we don't diagnose and we are not treating just the named disease or condition, but we are treating the whole person.
Relevant
The Bowen Technique treatment protocol is very well worked out in its effect on the whole body. For instance, probably the most common presentation for a Bowen therapist will be back pain. With Bowen we will tend to give a whole-body treatment at the first visit, which includes the neck, knees and shoulders because it is often very difficult to be completely sure where any given pain is coming from and to know how other structures are being affected by the original problem, Bowen's holistic way of treating will most often get to the root of problems gently and efficiently.
Bowen is a gentle treatment that works on the Autonomic Nerve system to help the body to heal its self through gently manipulating the fascia.
 Since the main goal of the technique is to stimulate the body to engage its own self healing mechanism it can be used effectively to reduce rehabilitation time after any illness, surgery or injury regardless of how old or recent they may be and may help a range of conditions from muscular problems to respiratory problems, hormone imbalance and menopause symptoms,including reducing flushing and sweats.
Treatments
Most of the work can be performed through light clothing, although some therapists prefer to work on skin. The ultimate choice should be the client's, however. Although each session will vary according to the presenting problems of the client as well as the skill and experience of the therapist, an initial treatment will address the whole body. As a general rule, moves will be made over the lower and mid back and legs, the upper back and shoulders before finishing with neck moves with the client supine (face up).
A session will generally last around 45-60 minutes although this will vary according to the way individual therapists work. Treatments should be scheduled between 5-7 days apart and an initial set of 3 treatments is recommended in order to establish whether the client is likely to respond to treatment.
Reactions and Responses
Post-treatment reactions to treatment are not uncommon and include tiredness, thirst, an increase in original symptoms, stiffness, headaches, flu-like symptoms, increased dream activity. Aftercare advice given to each client will emphasise the importance of
The Wonder of Bowen Fascia Release Therapy
Bowen Fascia Release is a very gentle body treatment, that can be used on the very young, the very frail and can help with Hormonal & Fertility Balancing. Hormone imbalance can cause the following
Menopausal symptoms, period pains, fertility and pregnancy difficulties, endometriosis, prostate problems, incontinence and much more.
I have been a physiotherapist for nearly 15 years and a Bowen therapist for two years and have found that Bowen can treat the back, spine, gluteus, coccyx, muscle-skeletal problems, Respiratory conditions, Migraines and hormonal imbalance.
The fascia is the structure just under the skin which can connect all the structures within the body and can hold our deep rooted emotion, most of our pain and holds on to our stress and old trauma as I have used this technique for many of my clients with brilliant results including hormones imbalance.
Hormonal Imbalance in Women
Women who suffer hormonal imbalances may experience hot flashes, night sweats, irregular menstrual periods and frequent headaches or migraines. They might feel very unstable emotionally, prone to irritability, depression and anxiety. Forgetfulness can become an issue, and women often complain of trouble concentrating or feeling lightheaded. Unexplained weight gain is common, as are insomnia, fatigue, pain or stiffness in the joints, heart palpitations and abdominal bloating. Skin may become very oily and prone to acne, or very dry and flaky, and hormonal imbalance can cause hair thinning on the scalp or increased growth of body hair on the face, chest, back or thighs. Women affected by hormonal imbalance are often less interested in sex and may experience vaginal dryness or pain during intercourse.
Hormonal Imbalance in Men.
Common hormonal imbalance symptoms in men include a distinct decline in sex drive and difficulty in achieving or maintaining erection. Men may notice a loss of muscle mass, endurance and energy, and may begin to put on weight in the abdominal area. They may be prone to depression, have trouble concentrating, feel less self-confident or frequently feel irritable or angry without obvious reason. They may develop high blood pressure or high cholesterol, and joint pain and stiffness are common. Sleep apnea often appears or is worsened as a result of hormonal imbalance, insomnia is common, and men may experience hair loss and urinary problems.
The Bowen Therapy has developed a series of treatments, which may assist in addressing and relieving these symptoms of imbalances in your hormonal system, for both women and men.
If you are experiencing hot flushes, mood swings, irregular periods, vaginal dryness, night sweats, breast tenderness or loss of libido (in females and males) then the Bowen Therapy could help overcome these symptoms.
Period pain and irregular periods for the young and old need not be endured. Bowen Therapy has been proven to help women regulate their periods, reduce clotting and lessen associated pain. Incontinence in men & women, plus children's bed wetting problems can be addressed with Bowen Therapy.
Fertility difficulties, pregnancy support and birth preparation can be aided with Bowen Therapy. Also, after a miscarriage or a termination, Bowen may help to accelerate recovery.
The success of   Bowen fascia release therapy never fails to amaze me.
If you would like to find out more about this therapy and how it could help you please check my website
www.Renascentia.co.uk
.
Or Facebook page
http://Facebook.com//Renascentiayule
Lynn
Writting up my manual for a wicca course that I am running soon. People don't see how much work goes into these course but I hope they get what they need out of it.
Doing my manaul for my first Reiki course. Have one person interested and looking for someone or a few to do it with them. It would be a shame if they had to do it on their own. Come Universe there must be someone out there who want to start their spiritual journey and be the right person for my teaching, mentoring and for my student but most of all let me be the right teacher for them.
Anyway life has been busy but quiet. Been doing a lot of mediation and enjoying it. Lots of self work going on and self cleansing and clearing. Taking all the yuck stuff out for all the lovely nice yummy stuff to go in.
Got a couple of lovely comments about the blog and I thank you every much. Your comments are very encouraging.
Going for food. Treating myself self you a yummy crummy lunch.....was going to do housework but deciced to spend sometime with nature and me.
LOVE, LAUGH, LIVE and Feel WONDERFUL, this the advice and the affrimation for today. If you don't feel it then as many teachers has told me, fake to you make it
Love and Bright Blessing
Yule
Being a physiotherapist as well as a Bowen therapist, I feel that these two therapies fit in nicely together and gives me a better understanding of the body and and a wider knowledge of the problems my clients attend with, as well as being able to prescribe exercises and give advice. 

 Being trained in Reiki, Angelic Awareness, Energy Healing, Massage, Aromatherapy, Reflexology and Crystal therapy gives me the knowledge of how the physical ailments affect the client emotionally, psychology and also what the body is communicating to the client through the physical ailment.
/