Shopping Cart
Your Cart is Empty
There was an error with PayPal
Click here to try again
Thank you for your business!
You should be receiving an order confirmation from Paypal shortly.
Exit Shopping Cart
Working together to awaken your inner potential
| | |
| --- | --- |
| Posted on January 26, 2016 at 1:30 PM | |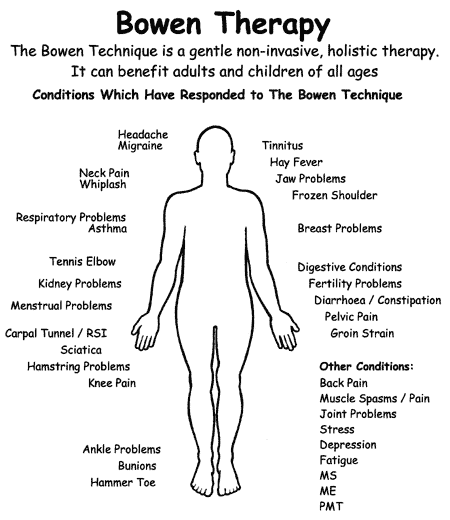 Try Bowen Release therapy for all your Shoulder and back pain. I am a Bowen therapist but I forgot how good it was until I got a friend to treat my Frozen shoulder. I had forgotten on how effect it can be, how quick it can work and also how relaxing it can be. Totally fell back in love with this treatment
Here is some information about it.
Contact me for more information
The Bowen Technique
What is it?
The Bowen Technique is a remedial, hands-on therapy that is applied using very gentle pressure. The practitioner uses thumbs and fingers on precise points of the body to perform Bowen's unique sets of rolling-type moves which stimulate the muscles and soft tissue of the body. There is no manipulation or adjustment of hard tissue and no force is used. The experience of a treatment is gentle, subtle and relaxing. It is believed that the Bowen Technique prompts the body to reset, repair and balance itself and clients report the experience of pain relief, improvement of function and recovery of energy. 
Gentle
As a therapy, Bowen is truly light-touch. The pressure used in Bowen is quite subtle and can be extremely light and still get the job done. It is not dependent on hard pressure and there is no awkward bending, twisting or re-positioning of the client during the treatment. because of this, Bowen can be considered for clients for whom other forms of therapy might be too aggressive, forceful or invasive. The tiniest of babies through to the frailest of adults have been treated with Bowen. 
Holistic
A key element of the principle guiding Bowen, and indeed all complementary therapies, is that we work holistically, according to the well-established principle of naturopathic medicine: 'That the body be treated as a whole, without referral to named disease'. Indeed, with Bowen we don't diagnose and we are not treating just the named disease or condition, but we are treating the whole person.
Relevant
The Bowen Technique treatment protocol is very well worked out in its effect on the whole body. For instance, probably the most common presentation for a Bowen therapist will be back pain. With Bowen we will tend to give a whole-body treatment at the first visit, which includes the neck, knees and shoulders because it is often very difficult to be completely sure where any given pain is coming from and to know how other structures are being affected by the original problem, Bowen's holistic way of treating will most often get to the root of problems gently and efficiently.
Bowen is a gentle treatment that works on the Autonomic Nerve system to help the body to heal its self through gently manipulating the fascia.
 Since the main goal of the technique is to stimulate the body to engage its own self healing mechanism it can be used effectively to reduce rehabilitation time after any illness, surgery or injury regardless of how old or recent they may be and may help a range of conditions from muscular problems to respiratory problems, hormone imbalance and menopause symptoms,including reducing flushing and sweats.
Treatments
Most of the work can be performed through light clothing, although some therapists prefer to work on skin. The ultimate choice should be the client's, however. Although each session will vary according to the presenting problems of the client as well as the skill and experience of the therapist, an initial treatment will address the whole body. As a general rule, moves will be made over the lower and mid back and legs, the upper back and shoulders before finishing with neck moves with the client supine (face up).
A session will generally last around 45-60 minutes although this will vary according to the way individual therapists work. Treatments should be scheduled between 5-7 days apart and an initial set of 3 treatments is recommended in order to establish whether the client is likely to respond to treatment.
Reactions and Responses
Post-treatment reactions to treatment are not uncommon and include tiredness, thirst, an increase in original symptoms, stiffness, headaches, flu-like symptoms, increased dream activity. Aftercare advice given to each client will emphasise the importance of
Categories: Bowen technique therapy, Physiotherapy, Eden Events, crystal courses, Servicemen clubs, boilers, water, crystal singing bowls, Crystal skulls,Vogel crystals, crystals, Kyle Gray, Angel Whisperer, Mediumship, commincation, card readings, menopause, hormones, imbalance, peripausal, infertility,flushing, sweats, flashing, women,periods,, Reiki, wicca self development, travel, love, hope, faith, happiness, self healing
/